Oh my pudding,
I know, I stay away too long. I don't consider your needs. If we were married, this would be grounds for divorce. But this is the internet. We're all children of the new morning, selfish and greedy and loveless and blind.
I'm joking, of course. I love you dearly, pudding. Of course I do. You know what else I love?
Food shaped like letters of the alphabet.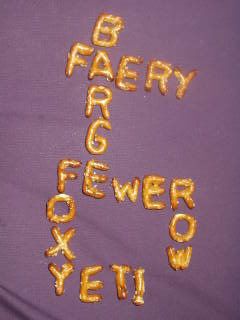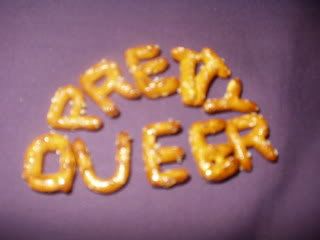 Also, when Matthew gets carried away spiffing up the chalk board during a Catalyst meeting.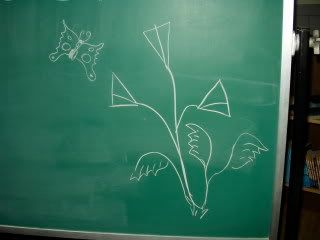 It starts innocently enough with a flowering vagina plant...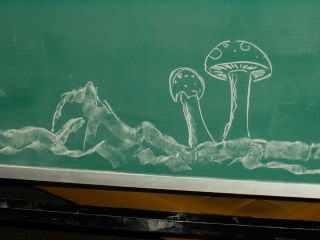 A few phallic mushrooms, for equal representation...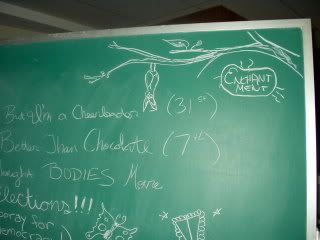 But then somewhere along the line, somebody gets into the ENCHANTMENT...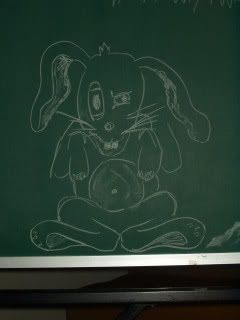 M. TotallySinisterLookingRabbit makes an appearance...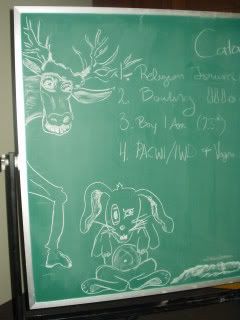 Accompanied, as always, by the Caribou of Questionable Motives...and...well...I don't think I can show you what happens next. It's TOO SILLY.
Contrary to what my blog may sometimes lead you to believe, Catalyst
does
actually get some pretty serious work done around here from time to time. For example, we recently held a forum to discuss religious perspectives on queer sexuality. And just this Monday, we showed a film called
Boy I Am
, about FTM transgender issues.
Hey look, you can
watch the trailer
. It was a really well-made film, I thought. Definitely recommended viewing, if you ever get the opportunity.
We're also nearing completion on our fabulous ZINE PROJECT, which is probably the endeavour that I've put the most work into as Activism Chair this year. I'm really hoping that this can become an annual Catalyst undertaking, so I've suggested that we elect somebody to the position of Zine Editor next year, mitosing it off from the Activism Chair position so that whoever is working on the zine next year doesn't end up having their zine work detract from other good activisty Catalyst things they are responsible for, or vice versa. This position will be open to frosh, so if you're interested in queer stuff and cutting and pasting, it could very well be you! (If you don't know what a zine is, or you just want to see lots of them all in one place, I recommend taking a gander at the
Queer Zine Archive Project
, which is just sexy beyond compare. Hopefully before too long, we'll have Catalyst content archived there!)
By the way, if you ever have any questions about Catalyst or queer life in Sackville, you're more than welcome to get in contact with The Current President (currently Katie "Gaypants" Saulnier) at catalyst(at)mta(dot)ca, or you can always just get in touch with me at elcameron(at)mta(dot)ca. Neither of us promises to know all the answers, but we are pretty hooked into the folks and the haps in the area, so the least we can do is direct your question to somebody who is more qualified to answer it than we are.
NEW SUBJECT TIME!
Actually, it's kind of an old subject, by which I mean I'd like to go back to something mentioned in my last entry.
Not 24 hours after I posted that entry, I got a very lovingly pissed off email from a friend who was involved in the workshop reading of my play. She said a lot of outrageously sweet things, but the general gist of it was, "don't belittle what you've done just because it wasn't the same thing that Jason and Landon did, bitch." Which upon re-reading my entry really
does
sound like something the girl who wrote it needed to hear, but here's the thing:
It's all a lie.
Well. Not quite all of it. I really did think
Salad Days
was a pretty remarkable achievement, and I really do think I need to be a touch more courageous about exposing my work if I'm really serious about this playwriting thing.
But...well. Okay. I'm going to quote from
Sheila Callaghan
's blog (pretending for a moment that it's not entirely ridiculous to compare my experience as an undergrad scribbler of as-yet-unstaged carnival adventures to the experience of a playwright who's cartoon likeness has appeared in the New Yorker):
"I don't want to get all braggy on the blog...but I FEEL braggy. Like, very. WILDLY. Which is why I am keeping my mouth shut."
Only, of course, I'm not keeping my mouth shut so much as I'm excitedly burbling that I HAVE DONE A THING every chance I get, and then hurriedly covering it up with self-deprecation, lest anybody think I'm actually, you know, pleased with myself.
But okay. Here's the big news: I wrote a play. Which is not a first for me, but I do have a pleasant tingly feeling that it is a best-so-far for me, and that's nice. And I invited a bunch of friends to my apartment and we ate muffins and drank wine and they told me what the play sounded like to them, and I made notes, and then I...made it better. Which is a really comforting thing to find you're still capable of doing, after spending two years with a series of words, and having reached the point where you're not quite satisfied with 'em, but don't quite know what's causing the dissatisfaction, either. It's nice to know, after spending all that time alone scribbling and tapping away at this thing, that what I've created does, at least in places, make sense to people who aren't me, and that there's hope for the parts that don't make sense too -- that people don't mind talking about them with me if I ask nicely, and that I'm not utterly incapable of seeing my work from the outside. (Although it's difficult, and never something i can really get a solid grasp on...but that's okay. It's like oobleck. And I like oobleck.)
Anyhow. A month or so later, you find you've sold your soul to the university store in exchange for photocopying and coil-binding services, and you're holding something like this...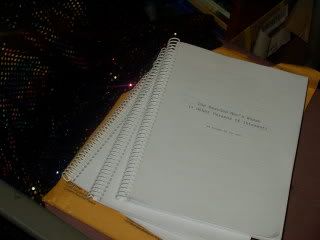 ...and trying to sort out how something this fat...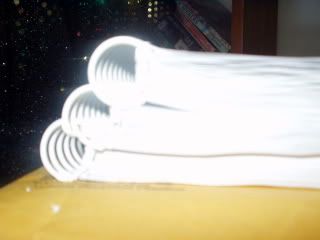 ...is going to fit into this envelope...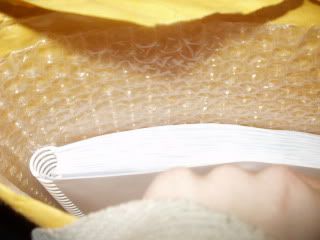 ...which of course, it simply is not.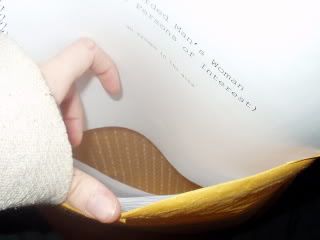 But it's all right. All you need to do is perform a little reverse-gastric-bypass-surgery with packing tape and donor tissue from another specimen.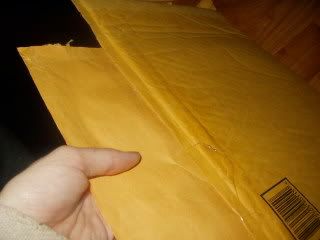 Ta da!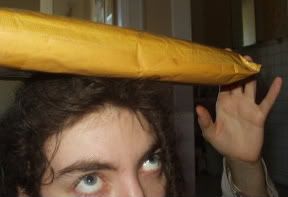 It's mailing time.
Which is to say that with any luck,
these fine people
have by this time received my freakshowishly fat envelope, and will soon be making professional judgements on the quality of its contents.
It's not that I'm not ready to let go of the project (for the time being), or that I don't know what to do with myself now that it's gone, but...well. It is a little strange. All these other writing projects that were on the back burner while I focused on finishing that particular script are now vying for primacy, and I'm like, "Woah, dudes, hold on, I have a huge friggin' pile of unwritten papers to take care of before I even start to think about you." And, as is the way with me and research, the process of writing papers leads to the conception of further ideas to shove aside at least until the end of the school term. (I think I need mind-condoms. For safe, clean, chemical information-sex. Messy, but not dirty.)
Speaking of playwriting and things I'm going to do with myself, though, I have Really Exciting News! A while back I applied for an internship with the
Playwright's Atlantic Resource Centre
, and just recently I was offered the job. This means I'll be hanging out in the shire for the summer. Should be good times, not only because this is a job I am looking forward to learning from, but because my flat-mate and several of my particular friends have also decided to do the summer-in-Sackville thing. I predict fantastic adventures. Picnics, perhaps? IT IS A DISTINCT POSSIBILITY.
But I'm getting ahead of myself, when what I really need to be doing is avoiding falling behind. Time to return to my stack of books, pudding. I'm very excited about Shakespearean triangles right now.
More Life,
Emmet
P.S. - Yesterday I voted emphatically in favour of continued funding for 7 Mondays, Mt.A.'s fab little student poetry-shortfiction-photography journal, which I continue to be infatuated with, even if it
doesn't love me back
. As part of the Save 7 Mondays movement, the current editorial board has been keeping up
this neat little blog
, which aside from spreading the word about how 7 Mondays may be saved, is also being used to display examples of
why
it should be saved, i.e.: particularly juicy bits from volumes past. I recommend checking it out.
P.P.S. - Um. In case you prefer it when you know why things are called what they're called, you might like this entry better after viewing this: